10 Guitar accessories that all beginners need to know:
If you are a beginner guitar, make sure you need to use soon some or all guitar accessories listed below. Then keep reading to know and learn about all. Once you know the accessories, you can already use some training on some easy guitar songs for beginners because for any learning worthwhile you need to apply. So here we go:
Top # 10 – Cleaning Kit:
Although many do not give a damn about it, have a dirty guitar can hurt your technique and even its sound. Ex: I assume that the arm of his guitar is right dirty? Only this can make the cords from locking when playing something, damaging your sound,
Suppose then that your strings are dirty too. Well, in this case they may have a bad or even burst sound. Because of these examples and others it is recommended that you have a cleaning kit for your guitar.
Top # 9 – Guitar Support:
It is very important that you have a support to hold the guitar properly. Many people harm the instrument keeps it the wrong way. Understand more about this accessory for guitar and how to keep the instrument correctly here
Top # 8 – Guitar Picks/Pick Holder:
It is very difficult to find a guitar player who never lost a pick, it is a very small object that fits anywhere, and because of that it is easy to be lost. You can stop wasting many straws to start using a bracket attached to the guitar or even on the shelf of your home. See the image of a model of this accessory below:
Top # 7 – Slide:
This is not an accessory used by all musicians, but it's really cool to bring a different sound and being easy to be handled. You can find a slide in any good store of musical instruments. Check out the image below:

Top # 6 – Guitar Belt:
You must have noticed that all the people who play guitar standing wear it around the neck by an accessory with the name "belt". If you do not have a belt I suggest you provide one, because very soon you will probably need to play somewhere. There are several different models of belt for every taste.
Top # 5 – Guitar Capo:
This accessory needs no comment, because today it is used by many great musicians who have made sensational sound with its use. I prepared a specific class on the guitar capo for you to understand much about it, and you can have access to this material by clicking understand capo for guitar.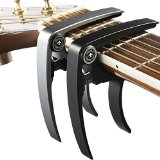 Top # 4 – Sound Hole Cover Block:
Many people do not know what it is, so I'll explain now. Every time you turn a electro-acoustic guitar amplifier in a box, the pickup will amplify all sound that enters the mouth of the guitar to this sound exit at the right amplifier box? However when this sound output from the amplifier box and reenters the mouth of the guitar, it happens what we call feedback, and then you need a guitar top to minimize this feedback sound.
It is also worth remembering that the guitar sound hole cover also influences the tone that you will hear, and because of that I recommend testing this accessory that has its own opinion about it.


Top # 3 – Metronome: 
The metronome is a clock that measures the time musical progress. Producing regular pulses of duration, it can be used for the purpose of study or musical performance.
On those days in another post many people did not like it when I said it's impossible to play guitar with good pace without training with a time stamp or a metronome, however often you only notice it when you make a recording. All notes have an exact time to last for a song, and you get good at sustaining notes on their certain times, you need to learn how to train the right way, and the metronome is the right accessory for you to do it . So it is one of the most important items for your workout, regardless of the model you want to use.
Top # 2 – Guitar Picks:
It is very important to touch directly with your hand, however it is very important to know also use the palette so you have technical diversity. Another very interesting option for guitar accessory is having a pick to test sounds with strumming or other techniques you want to use.
Top # 1 – Tuner:
If there is something you should not do is play with the tune guitar. However many guitar beginners find it difficult to tune your instrument in the beginning, and reach out to the tuner. As it will help you to tune your guitar without even having a sense for well – developed notes. It is worth remembering that you should seek to develop their awareness and learn how to tune by ear, even if you choose to use a tuner battery at first.