To make your guitar a truly an inspiration, you should have a good appearance and good sound. These two aspects depend on what type of care be given. A large part of the repair and adjustment tasks require a specialist who has the knowledge and special tools. Still, there are many things that any of us can do to keep our guitar in the best possible condition.
How To Clean A Guitar
I will share all the methods that I've founded and that worked fine for me. There's no doubt that there are other ways to the same work on your guitar. There are lots of products available on the market to achieve the same results.
The finishing methods on guitar are made with enamel, lacquer or urethane. The following technics that I'm describing can be used to take proper care of all of them. There are others rare finishes known as "Cashew Lacquer" or other ones based on oil, which have similar maintenance techniques, although you shouldn't follow the following procedures without extreme caution and attention. If you have doubts about the compatibility of a product or technique with the guitar finish, you should try first on a discrete part of the guitar, with the help of painter tape if it's necessary (to keep a clean and sharp painting).
Guitar Body Cleaning
The simplest way of taking care of the guitar finish is cleaning the guitar with a soft cotton cloth after each use. This will avoid the accumulation of impurities caused by skin acids and it will keep it shiny for a longer time. The most popular and universal solvent and cleaner is water. A soft cotton cloth can restore the shine that became dirty and opaque. Cleaning and drying. Although sometimes we allow things to reach a point where we need some kind of help, water isn't helping us to get the shine we want.
The most used product by many people for a finish cleaning is the red oil, usually used for the maintenance of furniture. It contains only a little, or nothing, of wax or silicone (according to what the label says). Those elements aren't that bad like some people think, they have lots of protector features, they resist water better than enamel, they help to protect body from acids, therefore, it avoids the unwished accumulation of grease and acids. But those products could carry some problems since it can impregnate the guitar finish making tough the future restorations and it has adverse effects if it gets softer in high temperatures.
There are also cleaning and polishing products specially made for guitars like Dunlop Formula Number 65, my personal favorite. This polishing paste was made after consulting with chemists, musicians, luthiers, etc. It was created to provide a good cleaning, shine and protection, and it's not abrasive at all. But, of course, you will have your own opinions after using this, or other products.
Inside body of acoustic guitars, dust may accumulate and it attract humidity affecting the sound. You can use a vacuum cleaner to get rid of the dust.
Cleaning Guitar Strings – How to Clean Guitar Strings
The strings must be clean if you want a nice tone and tuning. The dirt and grease coats the strings quickly while playing and the salt of your sweat produce corrosion even if you don't clean it for a short period of time. The strings must be wiped and cleaned after each time you play with a cloth without lint that can pass under the strings. The cleaning of strings reduces the sensitivity while playing, they last longer and they sound shiny like brand new ones.
The string lube may avoid corrosion and keep them in a good shape, but you must get rid of the leftovers of the product. I don't recommend this kind of product for nylon strings (I only use it for the last three strings), even if the product says it works on those kind of strings,
I use Tone Finger Ease, it worked perfectly and the presentation is a spray. Although the label says that you should spray the strings, I prefer to spray a cloth and then wipe the strings.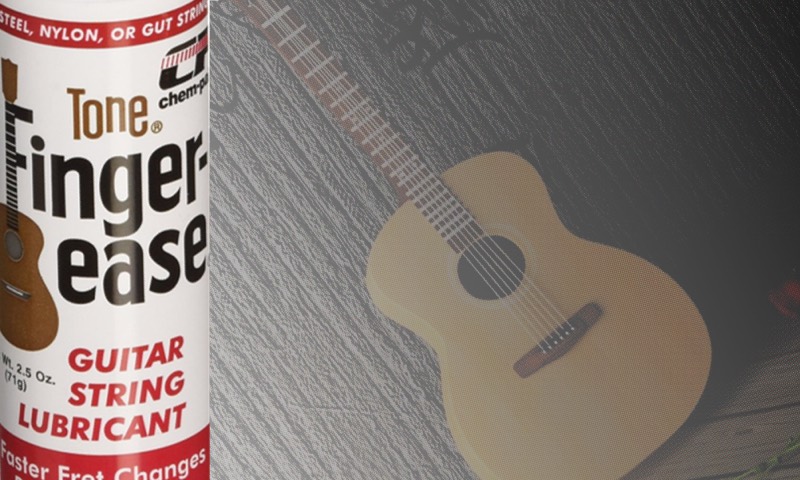 After that, I use a clean one to make recover bright of the string. (I use this technique to avoid spraying the product on the fretboard, since some cheap finishes could be damaged). I use the same procedure to clean the frets with the same product since the products made for cleaning the frets are usually strong products and they could damage the guitar finish. The products for strings are softer.
Fretboard Cleaning – How to Clean A Fretboard
If you keep your strings clean, you also prevent the grease and dirt from coating the fretboard. When you change the strings you must clean it with a dry cloth. If the fretboard is made of ebony or rosewood, you can wipe it with a little of lemon oil to get rid of grease and dirt. This also "feeds" the wood preventing from getting to dry. You have to leave the fretboard oiled for a couple of minutes before cleaning it.

If the fretboard is to dirty you have to leave the oil last longer. After cleaning the oil, we have to clean the frets and the wood with a very fine and soft shamy. On the fretboards made of maple, you must not use the shamy unless you want an opaque finish. The dirt founded on the sides of the frets can be cleaned using a pick wrapped with a cloth moisturized with lemon oil.
If you're cleaning an electric guitar, you should cover the pickups to avoid the magnets to attract steel particles from the cloth.
Tuning pegs and bridge
The metallic parts, like tuning pegs, posts or bridges, must be cleaned regularly as well. You can use specified products for nickel or chrome plated elements. The gold plated must be cleaned with a soft cloth. If those parts are rusty, you may take them out and use some adequate oil to fix them. You have to be sure that these parts are correctly cleaned before you attach them again. It can be handy to use a little paintbrush to clean the tremolo bar, bridge and other areas that are difficult to reach.
A regular cleaning of your guitar, not only will prolong the life of your instrument, but also, it will preserve it sound, touch and appearance.
How about you? How to clean your guitar? Don't mind to share it with me!